Detailed description
Pneumatic Cable Stripping Machine (WPM-315)
Cable Stripping Machine, Cable Jacket Sheath Stripper, Cable Stripper
Function
1. Bevel design, according to somatology.
2. Dual-driving cylinder, no spring breakage.
3. Self-feeding oil and supply. A timely oil supply to the cylinder can decrease the abrasion of the interior cylinder and lengthen life.
4. Special sliding holder, balance stroke, and high peeling precision. Electric control, easy operation.
5. Adjustable structure, and wire thickness.
6. Suitable for short cables with small diameters, such as AC/DC, power wire, computer cable, electronic cable, and multi-core cable.
Model WPM-315
Stripping length 150mm
Wire Dia. 0-20mm
Air Pressure 0.5-0.7mpa
Voltage 220V/50HZ 110V//60HZ
Force 84-196KG
Weight 65KG
Size L1100*W550*H450mm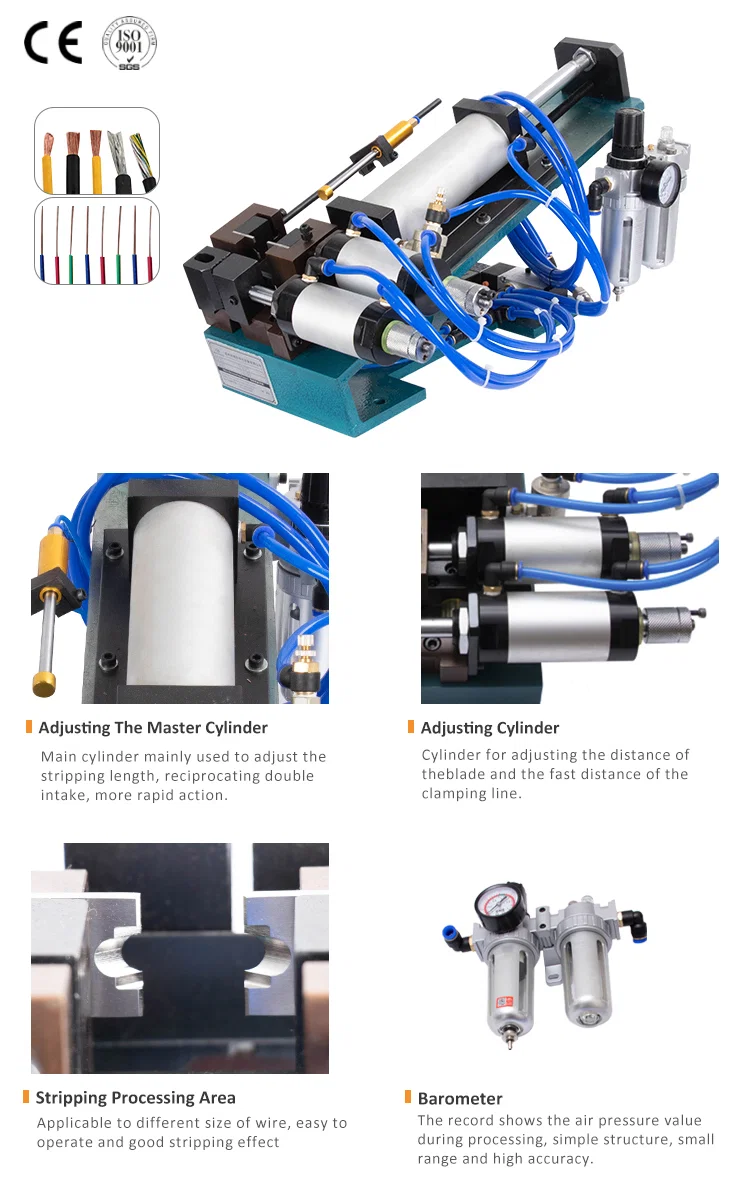 Model

WPM-305

WPM-310

WPM-315

WPM-330

WPM-416

Wire Size

1 - 5mm

1 - 10mm

1 - 15mm

1 - 20mm

1 - 30mm

Stripping Length

3 - 50mm

3 - 100mm

3 - 150mm

3 - 330mm

3 - 150mm

Cylinder Dia.

Ø40

Ø50

Ø60

Ø60

Ø80

Force

31-37Kg

49-115Kg

84-196Kg

84-196Kg

165-300Kg

Power Supply

220V

220V

220V

220V

220V

Dimension

40×30×27cm

48×33×28cm

60×42×36cm

110×55×45cm

80×62×55cm

Net. Weight

20Kg

25Kg

35Kg

65Kg

50Kg

Packing

Packed in Wood Case (Standard Export Packing)